Always Have Access to Your Content
Whether it's on your laptop with no internet connection or through our mobile app, access your content anytime, anywhere.
Ensure you can always tap into the power of your content.
CELUM Mobile App
A DAM in Your Hand
Whether you're at a trade fair, visiting a customer or simply out and about, the CELUM mobile app not only gives you fast and convenient access to your content, but it also makes sharing from your mobile device a breeze.
Instant content access with your mobile device
Just opening the CELUM mobile app gives you instant access to all your assets stored in CELUM. Be it JPEGs, PSD, PowerPoint, videos, audio files etc., freely search for what you want and never come up empty of the content you need. 
You've found it
Now share it
Sort your assets according to specific criteria like last modified, date created, asset name or asset size in a dropdown menu in ascending or descending order. If you know exactly what you are looking for, just put in the full-text search term. Once you have what you need, select it and download it to your device. Share it via email, social media, WhatsApp or wherever you need. 
Have some exciting photos, videos, or documents to share right now? No problem. Open CELUM mobile app and add them straight to CELUM. But don't just dump those new additions in there. Tag and assign metadata. The unique description makes the assets you uploaded easier to find, filter and manage within your organisation's content system. Doing your future self a favour when you need to go back and find the content to use later. 
CELUM Mobile App: BECAUSE YOU'RE ON THE GO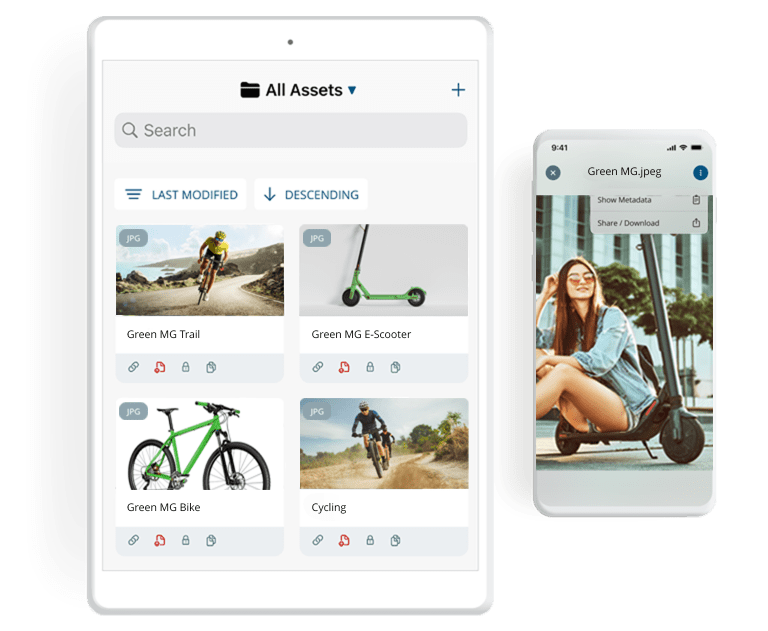 CELUM Drive: Enterprise-grade
file syncing
Stay connected and up-to-date, even with no internet access. Effortlessly sync files, folders or even entire asset collections to your computer and access them locally at your convenience. Fully GDPR-compliant, enterprise-ready and safe.
Get offline access to all your files
Create, view and edit files, even when you're away from the internet. Make content available for offline use and sync folders and entire asset collections to your computer with the CELUM Drive app. Once you are back online, any changes will be synced automatically. 
GDPR-COMPLIANT FILE-SYNCING
Your data is synchronised immediately between CELUM and authorised devices. If the validity of or access to a file expires, it is automatically deleted on the user's device.
Specialised in mastering complexity of assets, audiences, integrations and more. 
Centralise, connect, manage in bulk product assets.
Reach the right audience with the right content.
Give concise feedback. Create workflows. Collaborate efficiently.
100+ applications and extensions accessible via integrations.