Embedding Documents on Websites and in E-Commerce-Shops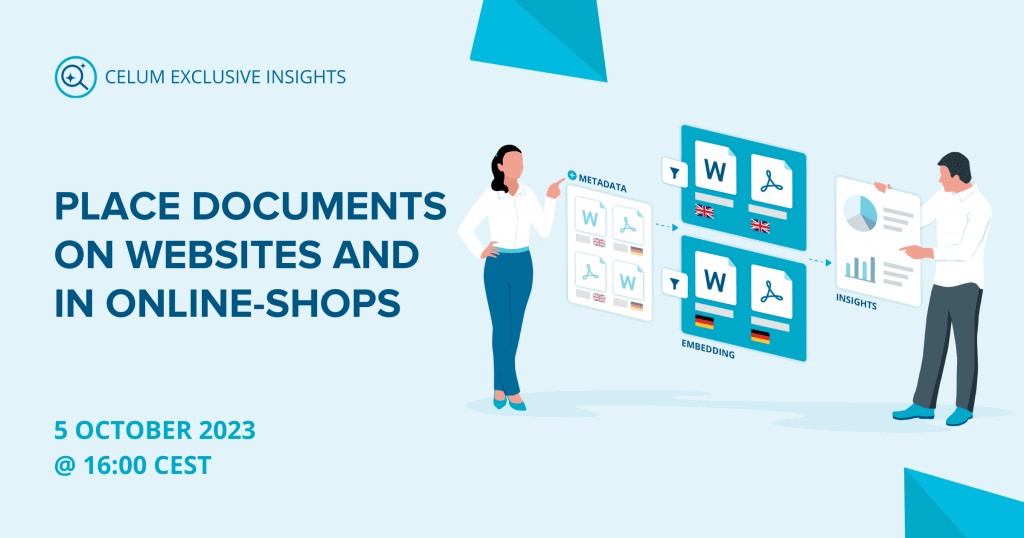 Effortless Document Delivery with CELUM
Thursday, 5 October 2023, 16:00 CEST
Online Session (in English)
What makes a pleasant experience for users when finding and reading documents online? In this session, CELUM founder and CEO Michael Kräftner will explain the most common issues related to working with documents in the digital world and how to enhance the user experience while lightening the workload on your team.
Join the webinar and benefit from:
Understanding how to easily share different documents with different stakeholders.
Combining metadata with AI to create the perfect asset and to help your audiences to find exactly what they are looking for.
An exclusive insight into asset performance analytics with CELUM.
Learning from best practice examples.
Asking your questions during the webinar.
Michael Johann Kraeftner, Founder and CEO of CELUM. During his first year at University of Applied Sciences Upper Austria in the department of Media Technology- and Design, Michael co-founded his first company. Which happened to be one of Austria's first internet agencies. The founding of the agency was followed by the formation of CELUM in 2004, a company that now has nearly 130 employees in offices all over Europe. Being the prototype of a bootstrapping scale-up and headquartered in Linz, Austria, CELUM is the leading innovator of Content Supply Chain Management and Digital Asset Management (DAM) systems.
Michael is a recognized expert in the fields of digital product experiences and New Work. He is an active investor in the Austrian startup sector. He is active in Austrian politics and engaged in public policy topics like gender equity and sustainability. Michael is an avid sailor and private pilot.
Martin Babry, CMO at CELUM, is responsible for the global marketing of all products. As an experienced marketer, he knows that content can only develop its full effect if the right experts, processes and tools come together. Otherwise, creating, managing and delivering first-class content can quickly become a mammoth task.
Step 1: Register
Please fill out the short registration form.
We will check the registration and you will receive an email with the confirmation, a calendar entry and your personal access link to the webinar.
Step 2: Participate
Shortly before the webinar starts, you only need to click on your personalized webinar link to join the webinar. A few hours before the webinar we will send you a reminder email.
Step 3: Recording and feedback
After the webinar, you will receive another email with the recording. You will also have the opportunity to give us feedback on the webinar and ask us more questions.
You have no time on the above date? Then register to receive a recording of the webinar.
Sign up to celum event invitations!