Content Supply Chain Platform
Inspire customers with your product and marketing content
The first content supply chain platform with the world's most powerful DAM allows you to cover every step of the content journey.
Content Supply Chain Platform
High-end digital asset management for thousands of product images, videos, and docs.
Bring tasks, files and teams together in agile workrooms.
Easily build custom workflows and automate recurring tasks.
Collect feedback, add annotations and approve any file type.
Store, access and share files GDPR-compliant and safe.
Access to over one hundred applications and extensions.
Approve Any File With Visual Markers
No more guesswork. Share precise and actionable feedback and annotate images, videos, audio and docs with markup tools.
With CELUM, our digital architecture has been expanded by an integral building block that has now become indispensable.
Dr. Anja Strejcek, silhouette
Bring tasks, files and content approvals together and never have to switch between different apps.
Knowledge workers spend an average of more than a third of their day looking for and consolidating information from the various platforms they use.
Let The Machines Automate Your Processes
CELUM Robots liberate you from boring work and automate recurring steps in your processes.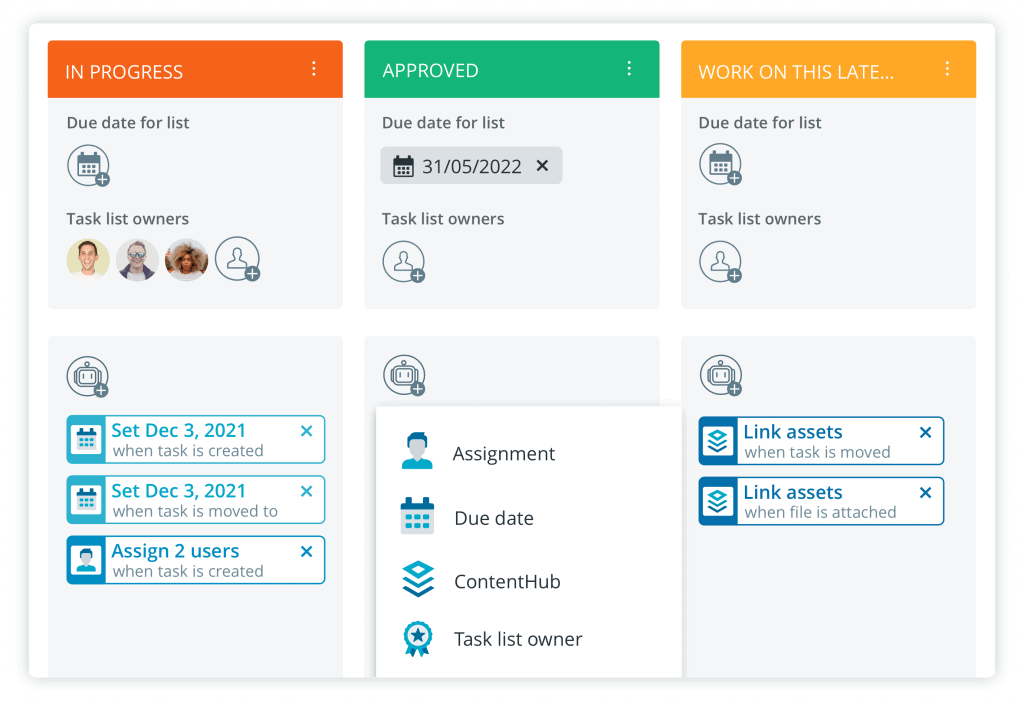 Creative Workflows Re-Invented
Create a consistent proofing workflow and ensure that each file goes through the required  stages and review and approval steps.
The easy, intuitive user interface and the open architecture of CELUM supports the international know-how transfer integral to our corporate network.
Christoph Schroll, HOCHTIEF
Let Everyone See What To Do With Kanban Transparency
Visualise work at various stages of your process and utilise Kanban boards as a powerful foundation for creative collaboration.
Kanban is the lean method to manage and improve work across human systems. This approach aims to manage work by balancing demands with available capacity.
Create, view and edit files, even when you're away from the internet. Make content offline available and sync entire asset collections to your computer.
Guaranteed GDPR-compliant file sharing and central data governance.
Different Content, Different Categorisation
Define relevant asset types and categorise your content based on our use case. Each asset type can have its own subset of metadata fields.
The partnership with CELUM has helped us to digitalise our processes. In doing so, we could greatly increase employee satisfaction and our time-to-market.

Dominik Wollenschein, Shop Apotheke Europe
Save Time And Work With Content Description
Find similar assets, easily detect duplicates and auto-tag your content with the help of AI. Take advantage of a powerful machine learning algorithm.
63% say that DAM helped them to save up to 10 hours per week across their workforce, 33.3% between 10 to 50 hours and 3.7% are saving over 50 hours per week.
Handle Huge Volume of Assets, Even in Bulk
CELUM is made for highest demands. Get reliable performance no matter if you create, manage and route thousands or even millions of assets.
The Radeberger Group streamlines their Content Supply Chain across its portfolio of over 40 brands with CELUM.
Control Specific User Access and Rights
Control user access, even for a massive volume of users.
Since we started using the CELUM media library, sales colleagues are happy to provide themselves with product content quickly and easily, which saves our marketing team a lot of time.

Sebastian Fruth, GODELMANN
Find And Share Your Assets Quickly
Create flexible node structures as well as asset collections and use filters to narrow down your search.
Employees spend 1.8 hours every day searching and gathering information. On overage, that's 9.3 hours per week!
McKinsey Report
GET HUGE VOLUMES OF CONTENT INTO THE SYSTEM
Save your content in the CELUM Drive and let the app upload files to your Content Hub.
Keep your data safe and avoid the usage of unsecure third-party applications.
Share Content Quickly And Define Rights
Share single files with PIN links or create branded download portals, so called Smart Views, for ad-hoc distribution of multiple files.
The innovative management of our digital assets has proven to be a real source of added value for us.

Karin Keplinger, voestalpine
Global Content With CELUM CDN
The Microsoft Azure-powered content delivery network (CDN) delivers best-in-class availability and speed.
Deliver your digital content fast and reliable no matter where in the world.
Have All Your Files On The Road
Synchronise all your important assets and collections from your central hub to your computer for local usage.
Enterprise-grade file syncing that satisfies users and your IT.
The Content Heart of All Your Experience Solution
Break up content silos with industry-leading integrations and route your content wherever needed
CELUM supports a huge variety of business applications – from creative tools, to PIMs and to your commerce or DX platform.
Unlock the power of your content today.
Simplify workflows, reduce errors, and spend more time with your team working on the next big thing.