For almost 100 years, ABUS has been setting standards in the field of security. The business fields of home security, mobile security and commercial security include thousands of products that are valued worldwide for their quality. The company has five locations in Germany and around 20 subsidiaries in Europe, the USA, Latin America, and Asia. ABUS, with its 4,000 employees, operates in more than 100 countries and stands for: secure, reliable, and stable. To optimally manage and use its extensive digital assets, the company sought a content supply chain platform that aligned with its values. Find out why the user-friendly CELUM solution is appreciated by ABUS employees and how it significantly increases the efficiency of the marketing team in particular.
THE CHALLENGE:
Elaborate content Management & usage
Prior to CELUM, ABUS was using a digital asset management solution that was not well accepted. Challenging handling and a limited range of functions led to poor data quality and reduced data volume. The goal of a "single source of truth" for more than 30,000 assets became a distant prospect.
Similarly, marketing or sales staff received dozens of requests for assets on a daily basis. The growing number of products and the intensive global marketing contributed to a steady increase in the distribution effort. This situation was very unsatisfactory for the globally operating company. Therefore, a conscious decision was made to purchase an easy-to-use, high-performance, and stable content supply chain platform which addressed all essential functional and legal requirements.
"With the NovaUI, CELUM has achieved a great success, especially in the area of usability. Acceptance among both editors and users is high."
THE SOLUTION:
user-friendly & high-performance celum solution
ABUS chose CELUM as its content supply chain platform to optimally manage all digital assets such as images, brochures, assembly instructions, catalogues, videos, audio files and packaging information and make them accessible. Product-related assets, including their metadata, are directly imported from the product information management (PIM) system established at ABUS into CELUM. The exchange of assets from the product lifecycle management system is also implemented. The intuitive user interface of CELUM enables new users to get started very quickly, 60 minutes. Currently, more than 33,000 assets are stored in CELUM. According to ABUS, the high-performance system enjoys a high level of acceptance among stakeholders. In the last four months of 2022 alone, more than 24,000 assets were downloaded from CELUM.
Mass uploads & tagging of assets
In no time at all, ABUS asset managers upload all the photos of a shoot, campaign, or new product to CELUM in a single step, storing all relevant metadata. Mandatory attributes ensure, for example, all relevant rights of use are described in detail.
CELUM, the "asset self-service platform"
By now, hundreds of ABUS employees from a wide variety of business areas appreciate the extensive search functions, which enable them to find assets in the shortest possible time and according to a wide range of criteria. Any restrictions of use are displayed directly on the asset. This self-service system allows the marketing team in particular to put more focus on their primary tasks.
Individually adapted image sections & formats
The integrated image editing mode makes life a lot easier for ABUS digital marketers. As the desired formats for use on social media, web or partner portals are firmly defined, these have already been stored in CELUM. The marketers search for the desired asset, select the appropriate section, and download the asset in the correct format and in the desired resolution.
CELUM – the central content hub at ABUS
Step by step, CELUM is developing into the central hub for assets in the ABUS Group.
24,000 +
Dowloads in the last 4 months of 2022
PIM Informatica
Integration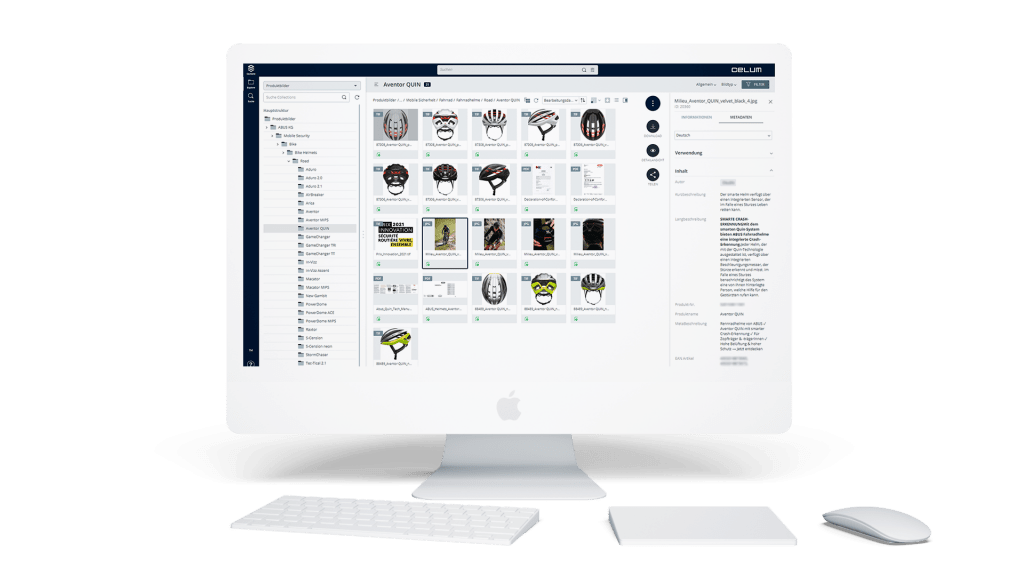 ABUS has been providing a good feeling of security since 1924. The products of the German quality manufacturer are characterised by high reliability and durability, with easy operation. To meet the growing needs of private and commercial users, ABUS offers a wide range of innovative security solutions in the areas of home security, commercial security, and mobile security. The independent group of companies with its headquarters in Wetter (Ruhr) Germany operates globally.
ENABLE BETTER PRODUCT EXPERIENCES
With CELUM, you inspire customers with compelling content about your product world.