DIGITAL SPORTS & ENTERTAINMENT 2022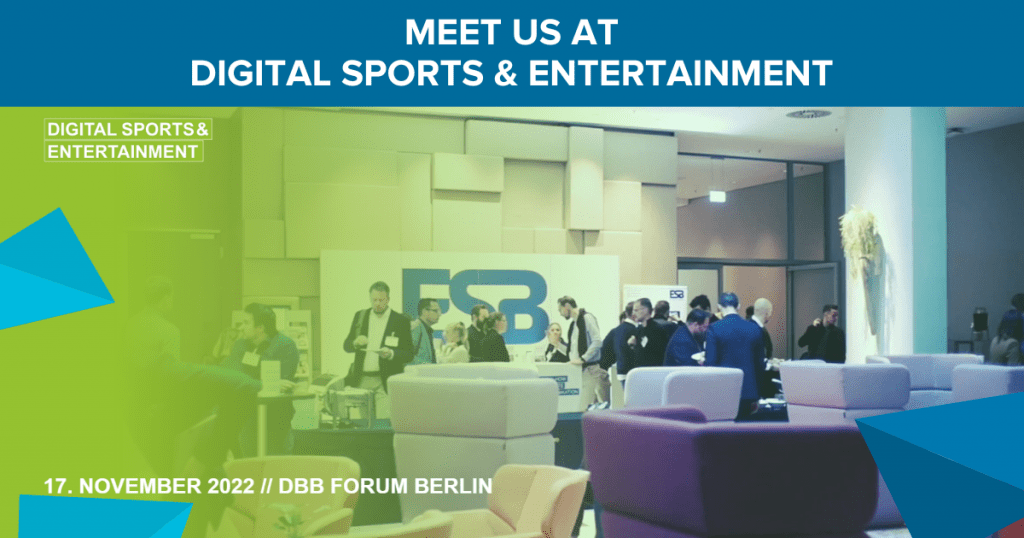 SPORTBUSINESS CONFERENCE
17 November 2022
dbb forum berlin,  Friedrichstrasse 169, D-10117 Berlin
On November 17, the 10th annual DIGITAL SPORTS & ENTERTAINMENT conference in Berlin will highlight the latest digital marketing developments and trends in the sports & entertainment industries.
The meeting point for the German sports and entertainment industry celebrates its 10th anniversary on November 17 at the dbb forum in Berlin!

The conference offers knowledge transfer at the highest level: Top speakers and experts present their learnings and best cases and discuss the most important trends in sports business and entertainment on three stages. 
Take part in the industry event and use the opportunity to refresh professional networks, to exchange ideas with colleagues, to discuss the latest trends and to make new contacts.

Business networking and a get-together after the conference round off the exciting program.
Some of the top speakers at the conference:
Nikolaus Glasmacher, Managing Director Sport BILD-Groupe, Axel Springer
Giuseppe Fiordispina, Marketing Director, SEAT Germany
Raik Packeiser, Vice-President, DTB
Philipp Avenell, Digital Marketing Manager, Cycling Unlimited
Stefan Schumm, Head of Marketing & Communications, European Championships Munich 2022
Niko Lindauer, Head of Marketing, INTERSPORT
Kai Schulz, Coordinator Sports Technologies, Borussia Dortmund
etc.
Sverre Losnedal-Øye is looking forward to meeting you at the Fall Summit in Berlin. If you would like to arrange a meeting with him in advance, please send an email with your proposed meeting date directly to Sverre (sverre.losnedal-oye@celum.com). He will then get back to you. 
As Account Executive, Sverre Losnedal-Øye helps CELUM customers in the German-speaking market create a customized content supply chain that gives them the upper hand in today's fast-paced digital environment. He understands the different customer needs when it comes to enterprise digitization.
Sign up for the conference
DIGITAL SPORTS & ENTERTAINMENT is an industry conference organized by the ESB Marketing Network. Registration is therefore only possible via the official conference website. Please find all information about the conference schedule and program as well as the costs for the participation there as well.
Sign up to celum event invitations!