FRESH CONTENT Congress 2023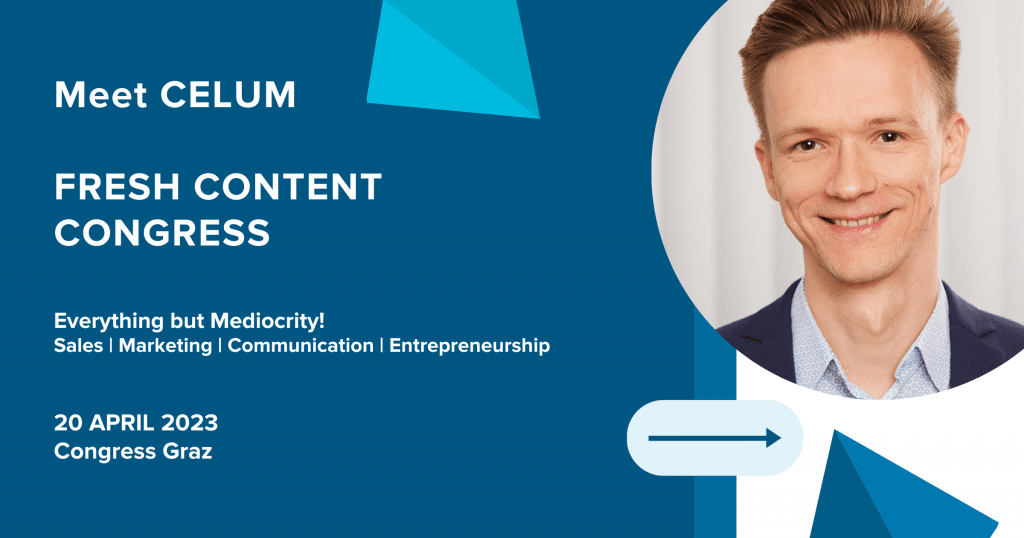 Everything but Mediocrity!
Tuesday, 20 April 2023
Congress Graz, Sparkassenplatz, 8010 Graz, Austria
Fresh Content introduces you to fresh ideas and new solutions for marketing, sales and communication.
The event in Graz presents new perspectives and alternatives to entrenched processes.
In exciting talks by experienced entrepreneurs and well-known speakers from Austria and Germany, you will gain inspiration and motivation for your personal and professional development.
Top Speaker:
Martin Limbeck, Geschäftsführer der Limbeck Group
Harald Kopeter, Geschäftsführer der Corporate Media Service und Storytelling-Experte
Michael Ehlers, Rethoriktrainer
and many more
If you would like to discuss the topics of content supply chain and perfect product presentation at the congress, it is best to talk to Joachim Enengl. He is an expert in this field and is looking forward to meeting you at the FRESH CONGRESS Congress. If you would like to arrange a meeting with him in advance, please send an e-mail with your proposed meeting date directly to Joachim (joachim.enengl@celum.com). He will then get in touch with you. 
Joachim joined CELUM in 2022 as Account Executive New Business and is responsible for CELUM's customer expansion in the DACH region. With over 10 years of experience in manufacturing and distribution of high-tech medical devices and in-vitro diagnostic equipment, Joachim understands the importance of efficient and stable supply chains, which also include digital content in these highly regulated markets.
Prior to joining CELUM, Joachim held various positions at leading companies such as MED-EL Elektromedizinische Geräte GmbH and Photonic Optische Geräte GmbH & Co. KG..
Sign up for the Conference
The Fresh Content Congress is organised by Corporate Media Service GmbH. Registration is therefore only possible via the official conference website. Please find all information about the conference schedule and program as well as the costs for the participation there as well.
Sign up to celum event invitations!