Managing your content in an enterprise organization can be quite challenging.
Unfortunately, there are far too many people involved in the lifecycle of content for the process to go smoothly. The solution? You need to streamline your content management process to ensure that you collaborate with the right people at the right time. An enterprise content management system helps you organize your business process.
This article covers the essentials of enterprise content management systems in five chapters.
What Is Enterprise Content Management
The term – Enterprise Content Management (ECM) – refers to a set of defined processes, tactics and tools that manage how the information flows within a business.
ECM focuses on the collaborative processes that help you obtain, organize and deliver important information across employees and stakeholders in a business.
Now, I guess you might be wondering, what's the difference between a Content Management System (CMS) and Enterprise Content Management (ECM)?
The main difference lies in the way you're using the content. A CMS is aiming to help you organize the content you are creating on your website. ECM is focusing on streamlining the overall process of gathering, organizing, and distributing information across different departments.
What Makes Enterprise Content Management Important?
ECM is crucial for your business because it can give everyone access to all the information required to organize, find, and distribute content. ECM can help your colleagues save time when looking for the right file or reduce their frustration when realizing that they've been working with an older version of the asset.
But ECM is not just about filing and digitizing information. Enterprise content management centralizes the process of gathering and distributing information to make sharing easier and faster.
In fact, enterprise content management systems can help you streamline your lifecycle of information to improve your organization's information governance. Let's look at the content lifecycle and how ECM can practically help you.
Enterprise Content Management software can help you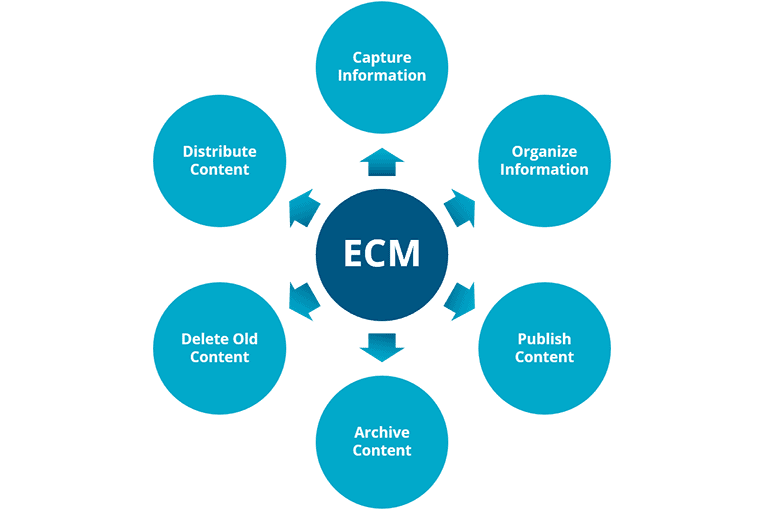 Capture information – define how you'll collect and use unstructured information
Organize information – set up a system to manage your content while adhering to company policies and regulations
Publish content – use your ECM to create and publish content as part of your site or intranet
Archive content – decide how you'll archive your content from now on to automate the process
Delete old content – never miss a crucial document again, whether it's on paper or digitized
Distribute content – make sharing easier across different teams and stakeholders
In other words, ECM can improve internal efficiencies and collaboration to automate time-consuming processes. Companies that do not implement ECM systems are risking wasting time and resources in managing content, while there is still the danger of losing vital information or not complying with corporate policies and regulations.
Book a demo with our experts to learn what CELUM can do for you.
CELUM Digital Asset Management is available only with our Enterprise plan.
How to Implement a Successful Enterprise Content Management Workflow
Before you get started with the implementation of an ECM software, it's important that you look at your current content and the process you use to manage it.
Document all the types of content that your organization is dealing with so that you can decide on the best tool that will make your process more efficient. Once you analyze your content, explore your needs and what you want to get out of your ECM software. Think of your short and long-term goals. How will your ECM system help you achieve them? Consider how different teams collaborate. Are there any potential obstacles that wouldn't allow a streamlined process across the lifecycle of information? The earlier you think of your business goals and the potential challenges, the easier it will be to implement the right enterprise content management software for your business.
Now it's time to be more practical. You need to pick the best ECM for your business so it's important to map out your content needs and how you can address them.
Let's start by looking at these key areas:
How many different content types is your business managing? Do you need to digitize old paper documents?
Review the number of people and teams that will be involved in the content lifecycle. Decide who needs to be part of the initial implementation process.
Think about how you're mostly using your content and what its lifecycle looks like for your business. Is it more about distribution, collaboration, archiving, or maybe transactional content management?
It's crucial to review your current processes (if any) to explore how to improve them with your new enterprise content management solution.
The best way to get started with your ECM solution is to get early buy-in from all key stakeholders. Spend the right amount of time to guide everyone through the new content process and how different teams can benefit from it. Also, consider how you're going to present the ECM to those people. You don't want to set up a complex ECM process that is soon ignored. Share your vision with everyone in the team and keep the lifecycle of content as up-to-date as possible.
Make sure you set a team as the owner of the implementation phase. They will be the ones to help and train the rest of the company while highlighting the benefits of moving to a new ECM system.
What's important to remember is that everyone needs a period of adjustment when a new tool is introduced. All team members need to familiarise themselves with your ECM until they are ready to make the most out of it.
You don't need to have the answer to everything from the first day. It will probably take time to make the process more efficient. This doesn't mean that you can't start by focusing on the issues that matter the most to your organization. Set your key priorities to avoid distractions that can delay the implementation phase.
Enterprise Content Management vs. Digital Asset Management
Enterprise Content Management (ECM) and Digital Asset Management (DAM) have one thing in common: Both systems are made to organize files much better than a simple folder structure can do. The big difference is that ECM was made with text and numbers in mind, while DAM traditionally focuses on visual digital assets. That is why DAM software is primarily used by marketing and graphic design departments and has specific features to distribute your digital assets to the outside world. An ECM, on the other hand, is very much intended for internal needs.
Of course, ECM providers add features for managing rich media while DAM providers venture into managing documents. Still, you might find that ECM is superior when it comes to text-based documents like contracts or tables, while DAM software wins the prize when it comes to managing and distributing images, videos, or audio files. So, rather often both systems are used within a company. If this is the case, it is critical that you can connect both systems, so that they work together. The connection of both systems is getting easier with a shift in the ECM and the DAM industry towards Software as a Service (SaaS) models with cloud-based solutions and open APIs.
Enterprise Content Management can help you organize your information in a more structured way. It can help you improve collaboration, efficiency and even security across different teams.
Whether you're just getting started with ECM solutions or want to improve your current one, the first step is to always look at your current processes. Review your current content lifecycle and how you gather, collect and distribute content and align it with your business needs.
Your business needs will determine your next steps and how you'll pick the best ECM platform.