I'm sure you know how it feels… Client sends you a new design project, and you happily get to work. Soon enough, you finish the first draft, and you eagerly send it to them to review and approve.
Unfortunately, what usually follows next is hardly fun…
You waste time chasing their feedback and risk missing the deadline.

Even if you receive comments, they often come across several channels and you have to spend even more time consolidating all that feedback without losing any important information.

And then…. you waste even more time trying to make sense of it all to finish the project.
Well, that's where online proofing comes in.
With the help of online proofing software, you can transform the way you collect feedback – save time, get approvals faster, and speed up your projects' completion – and in this guide, I'll show you exactly how to do it. 
We'll discuss how the online proofing process works for designers and why you absolutely must use it. And I'll also show you the best online proofing tools for graphic designers like you.
Intrigued? Let's take it from the top, then.
Benefits of Online Proofing for Designers
I mentioned three benefits of online proofing for graphic designers: saving you time, getting faster approvals, and completing projects on time. 
But I'm sure you'll agree – they are quite generic. Luckily, online proofing can deliver far more specific outcomes for your design business. So let's take a look at the main ones.
#1. Eliminate chaos in approvals
If there's one constant thing in all client feedback, it's chaos. 
You often find it hard to understand what they mean fully.

Sometimes clients comment on an older revision of the file. 

Their comments often also lack the context to help you understand what they mean…
Moving all feedback into an online proofing platform eliminates all that and more by allowing you to collect feedback directly on top of your designs. 
Your clients can annotate files, use markup tools to provide more context, compare file versions in real-time, and share precise feedback that's easy to understand.
#2. Bring all feedback to one place
How often do you have to sift through emails and notes you took during client calls or meetings to gather all feedback they've provided? 
My guess is quite often. It's how clients tell us what they think, after all. They set up meetings to share some feedback. They send more comments via emails, and we sometimes follow up with more calls to clarify their ideas. 
The problem is that it leaves you with the task of consolidating all that feedback to complete the project. 
The situation differs when you move all project communication into an online proofing tool. Whatever feedback clients provide resides in one location, and you can quickly access and review their ideas without worrying that you might have missed something.
#3. Increase the clarity of the feedback you receive
Similarly, discussing ideas directly on top of the designs brings clarity to all the feedback. You and other team members can see comments in the context of their work and never have to wonder what the client really means.
#4. Reduce the number of revisions
Another benefit of online proofing for graphic designers is that clearer feedback brings less guesswork on your part. That, in turn, translates into fewer revisions and getting projects approved faster.
#5. Better project management
Some online proofing tools, like CELUM, also give you access to project management capabilities. This means you can tick off comments and tasks as you work through the client's feedback and ensure that you haven't missed anything.
#6. Compare versions without jumping back and forth between files
This is another incredible benefit of using online proofing software for designers. You and clients get to quickly compare different file versions side by side to track changes and see what's left to do to complete the project. 
CELUM, for example, allows you to compare revisions of almost any file type: websites, images, videos, PDFs, and other file types. 
With that in mind, let's review the best tools graphic designers can use for online proofing. 
11 Best Online Proofing Tools for Graphic Designers
#1. CELUM - the complete online proofing and project management solution for graphic designers
CELUM (full disclaimer – this is our tool) is a complete online proofing solution for graphic designers and design agencies. 
We built CELUM to help people like you – graphic designers and creative teams – streamline and accelerate projects by improving how you collect feedback, manage reviews, and get client approvals. 
Because of that, CELUM features all the tools and capabilities to help any graphic designer collect and manage client feedback:
Advanced feedback.

CELUM allows you to share any file type, including videos with clients and collect their feedback with advanced annotation and markup tools. With CELUM, you can annotate images, video clips, audio files, and any other standard file format. 

Collaboration.

In CELUM, everyone involved in a project – your creative team or a client – can collaborate and get things done quickly. That's because, with CELUM, you can set advanced roles and responsibilities and use Robots to automate many tedious project management tasks. 

Proofing workflows.

CELUM features robust templating capabilities allowing you to create workflows for all your common project types. By creating those workflows, you can ensure consistency and quality of every project you deliver. 

Revision history.

CELUM gives you access to a complete revisions history to compare different versions of files and monitor how projects evolve. 

Workflow management.

Finally, with CELUM, you can manage all tasks, files, and people in one place and automate your workflow with robots.
Pricing: CELUM offers a free forever plan for up to 10 users, so your team can start implementing online proofing processes immediately and at no cost. Larger teams can avail of paid plans starting at €14.90 per month.
Hive helps creative teams manage projects faster – including online proofing – with a dedicated dashboard. Although not as powerful as CELUM, Hive also offers features to send clients files for review, collect their comments and annotations, and get a sign-off. 
Pricing: Hive offers a free plan targeted at individual graphic designers. Creative teams can sign up for the Teams plan starting at $12/mo per user. 
Filestage is an online proofing software for graphic designers that aims to eliminate the usual email chains that accompany the traditional feedback and review process. 
To do that, Filestage offers the standard set of online proofing tools your design practice needs – comments, annotation tools, and project approvals. 
Pricing: Filestage pricing starts at $24 per seat.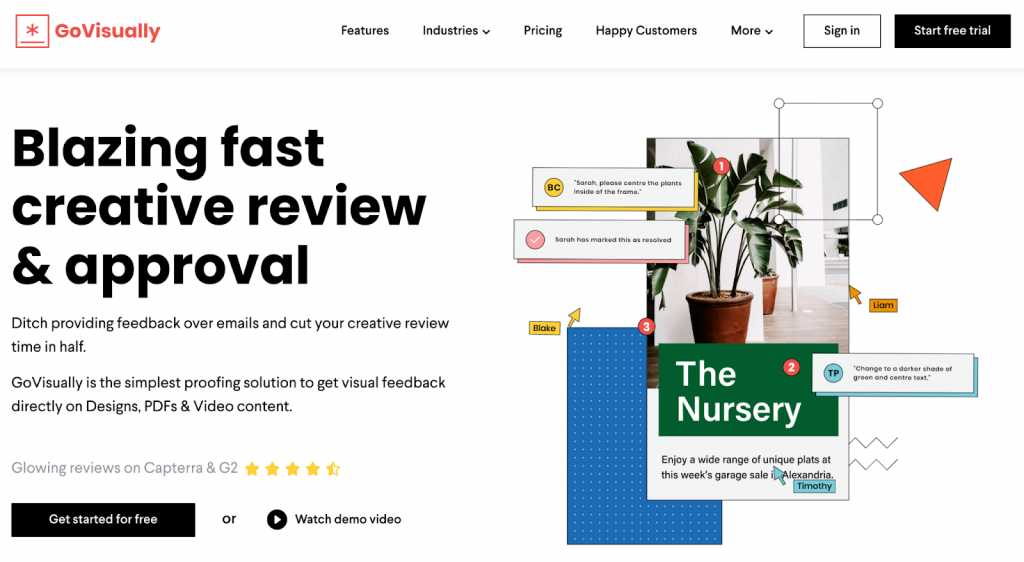 GoVisually is another online proofing tool allowing graphic designers to eliminate the outdated approval processes over email. GoVisually offers designers a whole range of tools to collect feedback, review file revisions, get signoffs and approvals, etc.
Pricing: GoVisually offers two pricing plans. At $25/mo, Solo is an ideal plan for freelancers who need a proofing solution to collaborate on files with clients. The Team plan, on the other hand, starts at $60/mo for five users, with the ability to add more seats at $12 each/mo.
GoProof is an online proofing solution for designers who use the Adobe Creative Cloud exclusively. The tool integrates with the Adobe suite and allows you to run the review and feedback process without having to export PDFs, PNGs, and other files from the Adobe suite.
Pricing: GoProof doesn't make its pricing public.
Approval.studio is another online proofing tool for designers that aims to overcome the most common proofing issues plaguing the industry – endless email chains, "final" file revisions, and feedback getting lost across several communication channels. With Approval.studio, you can create custom design review workflows, use annotations, invite external reviewers, compare file revisions, and more. 
Pricing: Approval.studio starts at $35/mo for five users and the basic set of features. The Pro plan starts at $135/mo for five users.
ReviewStudio is a robust online proofing platform for designers and creative teams. Creatives use it to collect feedback, collaborate, and get project approvals faster. 
With ReviewStudio, you can mark up and annotate any type of file, including videos, web content, and PDFs. You can also track revisions, share feedback in a single, centralized location, and get approvals. 
Pricing: ReviewStudio offers four plans that differ by the number of users, storage space, and functionality. The smallest plan starts at $19/mo.
Aproove offers a range of online proofing features specifically aimed at graphic designers. With Aproove, you can use annotation and markup tools to help get better quality feedback, set up review workflows, create to-do lists for reviewers, compare file versions, share comments and even mark them with note tags so that relevant feedback is easier to find, and more. 
Pricing: Approve starts at $750 per month.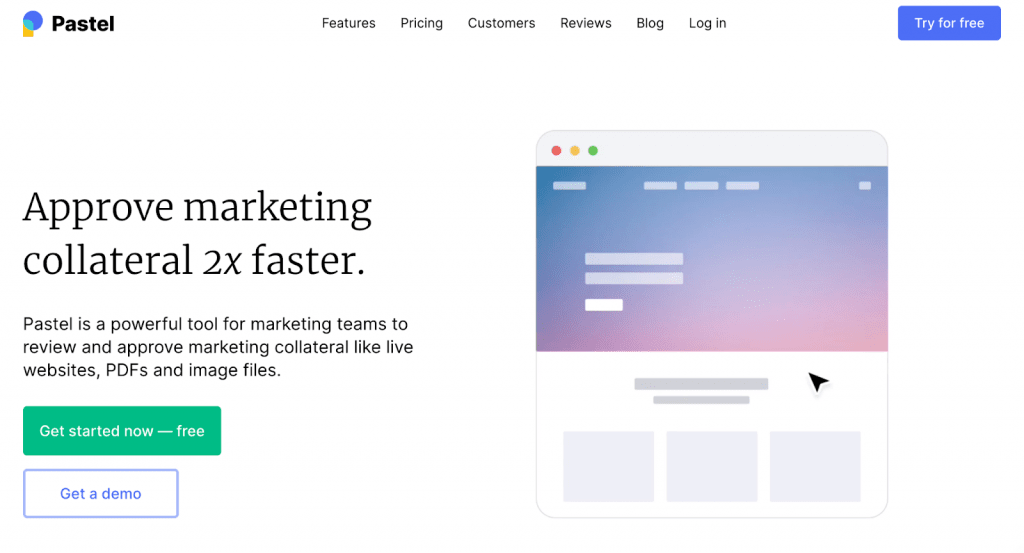 Pastel is an online proofing tool created for in-house marketing teams in general. The platform offers a set of features suitable for any designer or design agency. You can share designs with clients using a simple, shareable link, collect their feedback and comments, review approval history, change project work statuses, and send automated reminders to move the work forward. 
Because of its focus on marketing collateral, Pastel is ideal for collecting feedback about live websites, PDFs, and image assets. It does not allow you to review videos and several other file types.
Pricing: Pastel offers a free plan with limited functionality for a single user. Full plans start at $24/mo per user. 
Webproof puts emphasis on creating and improving online proofing workflows with clients. The tool provides an overview capability to let you see the status of projects and individual assets, a commenting tool to let you and your clients leave suggestions directly on design files, markup tools, text highlighter, and even the ability to attach files to your notes to provide further context.
Aside from being a web-based tool, WebProof also offers an iOS app that allows users to manage projects on their iPads or iPhones. You can also use the company's InDesign plugin to manage online proofing within that app.
Pricing: WebProof's prices start at $9 per user per month. Higher plans offer more storage and a number of projects.
Unlike other online proofing tools for designers on this list, Markup Hero is a desktop app. You need to download it to use it. But once you do, Markup Hero let's you easily annotate screenshots, and upload images, full websites, and PDFs to comment on as well.
Markup Hero also offers you the ability to review all revision history for a particular asset, create markup collections, markup and annotate files, and even share your comments with shareable links. 
Pricing: Markup Hero offers a free plan for up to 10 markups per month. You can also access full functionality by paying $4/mo per user.
Looking to streamline your review and approval process?
Check out CELUM, a dedicated online proofing software for graphic designers.