Are you frustrated by the endless content feedback loop? Wondering how to set up a content review process that would help reduce the time you wait for approvals?
I bet this happens all the time for you too – You're always excited at first about every new content project landing on your lap. But then, you quickly realize that it will mean another never-ending cycle of reviews, chasing feedback, and waiting impatiently for sign-offs.
Ugh…
The good news – Well, it doesn't have to be like that. In fact, it shouldn't. But to break that cycle, you need to establish a strict content review process. 
Another good news – You'll find out exactly how to do it in this article. 
So, let's take it from the top.
What is a Content Review Process?
The easiest way to explain the content review process is as a set of steps that help you get any draft or piece of content – a blog post, visual file, video, etc. –  approved and signed off. 
I like to think of it as the company's standard for who should be involved in reviews, what they should review, and when to get work done on time and to the brief. 
However, there is more to it than that. 
For one, the content review process also helps you ensure the quality, accuracy, and relevancy of every content asset. And on top of that, the process ensures that all content your organization produces is in line with its editorial guidelines, and fits the overall content strategy of the company. 
Furthermore, the process defines which content team members are responsible for providing feedback, and who has the authority to consider a particular stage of the process as completed.
In short, the approval process is your strategy to ensure that the content you produce is always of the highest quality and on-target. 
For that reason, the process must cover several aspects of the typical content production process. 
In fact, it is a common misconception that the review process focuses on approving the final draft. It does not. Instead, the process runs in parallel with the production, with reviews and approvals happening at different stages – from ideas and briefs to various drafts, revisions, and more. 
The most common stages of the content review process include:
Brief revisions

Draft review and feedback

Revisions review and approval

Final draft approval.
Having said that, there could be more. That's because the process largely depends on the content production process in your organization, and the type of content assets you create.
Before I show you how to define such a process, let's go a bit deeper into why the review and approval process is an absolute necessity for any brand.
Why create a content review process
We've covered some of the benefits of having a solid content review and approval process already. 
But there are far more reasons why you should consider creating it. Here are some of the most important ones:
Much faster and more efficient content production.

As brands, we have to produce more and more content every month. And needless to say, it's hard to keep it going smoothly without a clearly defined process for collecting feedback and getting approvals. 

The process also saves you time.

As you'll see shortly, the content review process allows you to spot and eliminate all the major bottlenecks in the production process and get things moving smoothly.

The content review process ensures quality.

This goes without saying – It's much easier to ensure that all content is of the highest standard with a clearly defined feedback process. 

The process also

helps maintain consistency

across all marketing collateral. 

What's more, a solid process will also

help you spot any errors and inconsistencies

before publication.

Finally, the process

ensures a complete alignment with the company's overall marketing strategy and brand positioning

. This happens because all assets go through a standardized review process, which means that the right people get to evaluate relevant aspects of each content asset.
How to Define a Content Review Process
Below is a framework you can use to define and establish a content review process for your company. 
Step 1. Define who should be involved in the review process
Let's start by making something clear – Not everyone involved in the content creation process needs to review drafts. There is no need for input from content creators, for example. These people produce the content, after all. The review process should focus on providing feedback on their work, and so, they should be the recipients of the feedback.
At the same time, there might be team members in other departments who absolutely must have a say in a project. The legal team, for example, might need to review final drafts to ensure that there is no risk of litigation. Similarly, the CMO might not be involved in the project throughout the production cycle. But they might want to review the final product to ensure consistency with their marketing vision.
So, as the first step, define who should review the content at its various iterations. For example, some team members who might need to review the content include:
Marketing managers

Subject matter experts if they're involved in the particular project

Editors

Project managers

Content managers
As mentioned above, the list might also include the legal team if you create assets that require their input or signoff, executives who want to see the status of projects, and more. 
Finally, you need to also designate one person who would be responsible for completing the process. This person would have the authority to provide the final sign-off and move the project from production to publication. 
Step 2. Create checklists to assist reviewers
Content feedback should focus on more than the person's impressions about the project. In fact, the person's impressions should play the least role in the process. 
Since each asset will go through several people, each of them should have clear guidelines for reviewing that align with their role. 
For example:
An editor should be reviewing the asset against various content-related factors like quality of writing, tone of voice, style, alignment with the company's brand guidelines, etc. 

A subject matter expert should check the accuracy of the information relating to their field of expertise. 

A marketing manager would pay attention to how well the asset fits within the overall strategy, and whether the draft meets the brief requirements, and so on. 
But it is your role to ensure that everyone involved in the review process focuses on factors that relate to their role, and provides meaningful feedback. 
One of the simplest ways to achieve it is by creating checklists that assist reviewers in their tasks. 
Such checklists can be as simple as a collection of questions that help the person evaluate content against certain criteria. For example, a checklist for a marketing manager could require them to assess whether the content:
Meets the brief requirements

Follows brand and editorial guidelines

Fits the objectives of a particular marketing campaign it belongs to, etc.
An editor, on the other hand, may need to review the content to ensure that:
There are no typos or grammatical errors in the content

All facts and data are correctly attributed

Images are relevant and align with the content, etc.
An SEO consultant might review the content to ensure that the content:
Targets the right keyword, as per the SEO brief

Follows all the on-page optimization best practices to ensure search engine visibility

Interlinks with other relevant assets on the site, 

Includes semantic keywords specified in the brief, etc.
TIP: To make the review process more actionable, set up review outcomes for every item on the list. 
You can simply ask reviewers to grade each factor against three criteria:
Pass

Needs revision (the reviewer could provide feedback here, detailing what to revise)

Failed
Even such a simple system would help bring structure to the process, and provide feedback that can be quickly acted upon.
Step 3. Set timelines and due dates for providing feedback
This is an incredibly crucial step in the process. 
You see – Unless you provide clear timelines for providing feedback, you might end up waiting forever to hear back from reviewers. People like to procrastinate on tasks unless they are important. So, unless you add some urgency to the task, your reviewers might end up putting completing it off forever.
Having specific due dates for each stage of the review process will help keep the process moving forward. 
Naturally, it's almost impossible to specify a review due date when you're only setting the project up in your project management system. You cannot know when exactly the draft will be ready. Sure, you might set up a due date for a particular stage but even then, it's hard to predict the exact timeline. 
What you can do, though is define timelines for review. For example, define that reviewers have three days to evaluate each stage of the project. This way, you can quickly calculate the review due date from the moment when you receive a draft of the revision. 
Step 4. Set up the process as a workflow in your online proofing software
The first three steps above focused on defining the process. This step, however, is all about helping you execute the process for every project. 
You see, one of the biggest challenges with review processes is not defining who needs to evaluate what, etc. It's ensuring that everyone follows the process and completes their tasks on time. 
This is quite easy to do when you have one or two projects running in parallel. But it's practically impossible to do without using relevant tools at a typical content production level today.
Enter online proofing tools. 
Online proofing software helps centralize the content review process and facilitates feedback and approvals.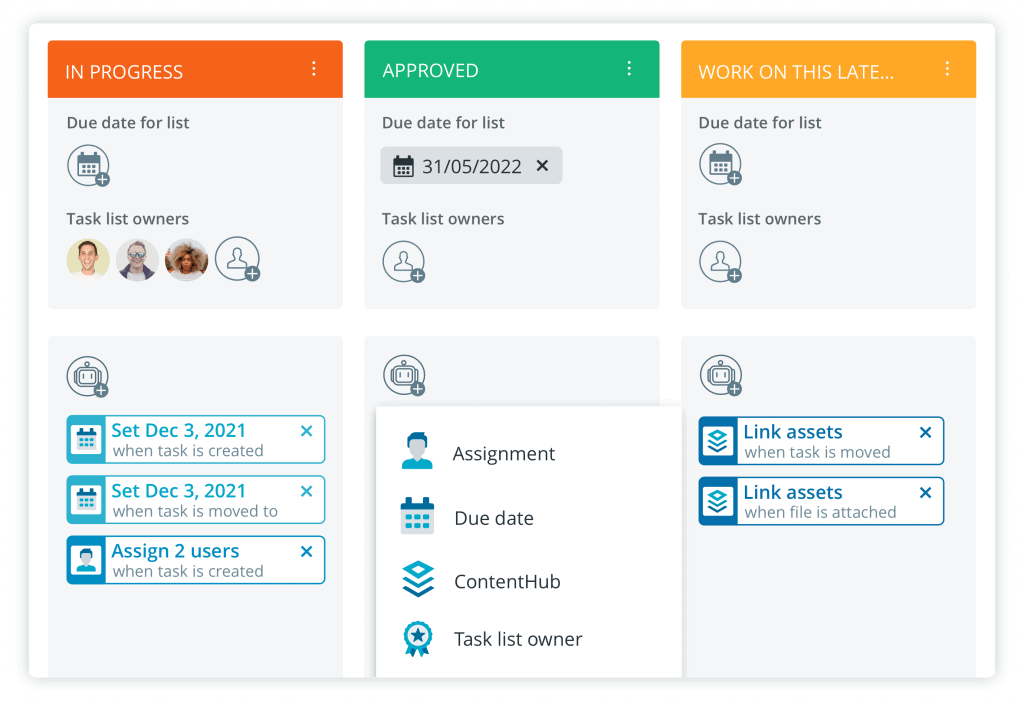 With such tools, you can:
Ensure that the process gets followed for every project. 

Teams have the tools to provide feedback in-context. 

All feedback is in one place, making it easy to act on it and move projects towards completion faster.
So, as the last step, set up your process in an online proofing tool and invite everyone involved to collaborate on the project there. 
Meet CELUM (disclaimer, this is our tool), the complete suite of online proofing and review tools
CELUM helps creative teams accelerate their projects by improving how they collect feedback, reviews, and approvals. 
CELUM boosts your review process by streamlining:
Feedback.

CELUM allows you to provide feedback on any file type, including videos. You can annotate images, video clips, audio files, and any other common file format. 

Collaboration.

With CELUM, everyone involved in a project – be it an in-house creative team or an external vendor – can collaborate and get things done easily. That's because, with CELUM, you can set advanced roles and responsibilities and also use Robots to automate many tedious management tasks. 

Proofing workflows

. The tool features robust templating capabilities allowing you to create

workflows

for different project types. This way, you can ensure consistency and quality for every project. 

Revision history.

CELUM gives you access to a complete revisions history to compare different versions of files and monitor how projects evolve. 

Workflow management.

Finally, with CELUM, you can manage all tasks, files, and people in one place and automate your workflow with robots.
Looking to improve your content review process?
See how CELUM can help you manage content production.