Product content management is a crucial aspect of any business that wants to thrive in today's competitive market. With the prominence of e-commerce and online shopping, customers have more options than ever before. To stand out from the competition, you need to present rich product content, which means creating detailed content that showcases your products' value. 
That is why CELUM is very excited to present to you our latest functionality, product content management featuring compound objects. 
What Compound Objects Are
Compound objects are objects made up of multiple parts or pieces, each of which has its own attributes and properties. These objects can include anything from a large manufacturing machine to a jacket to medical equipment. By breaking down products into smaller, more manageable parts, you can create more detailed and accurate descriptions that will help consumers better understand what they are buying. 
Let's discuss how an agile product content workflow can help you optimise the relationship between a product and its content.  
Connecting Your Product with Its Content
To effectively market your product, you need to assign the necessary assets that will showcase it effectively. This includes multiple images from different angles, videos that highlight its features, product information sheets, and any other relevant media that can help potential customers understand its value. By preparing a comprehensive set of assets, you can ensure that your product is presented in the best possible light.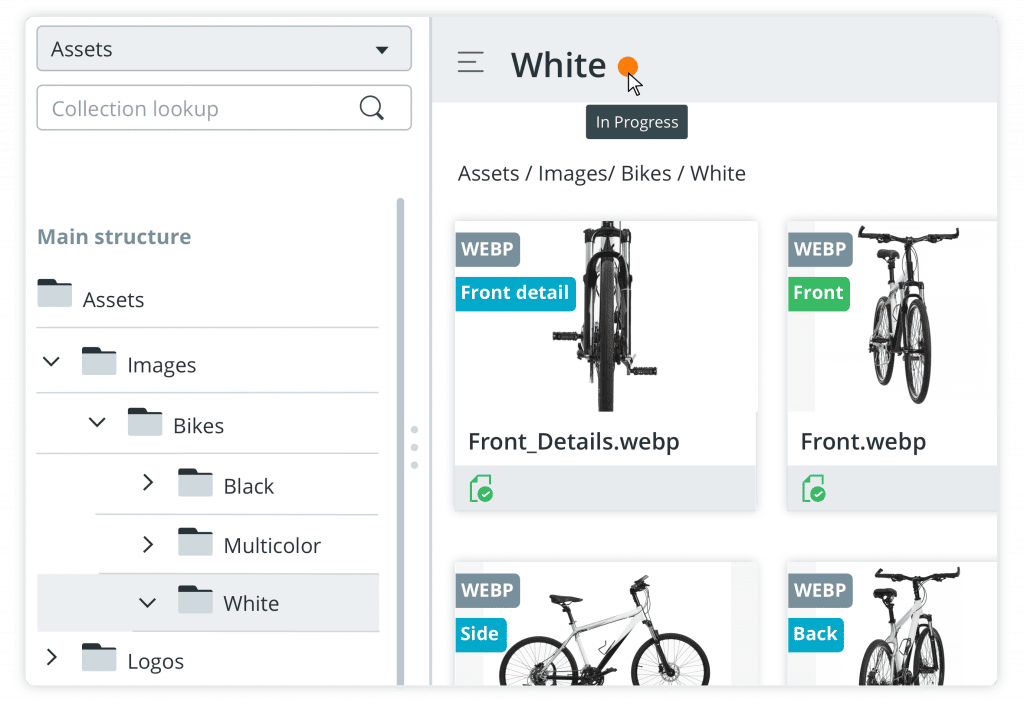 Obtaining a Clear Overview
By assigning the necessary assets for your product to go to market, you now have a comprehensive overview of what has been completed and what is still pending. This approach provides an excellent opportunity to ensure that your product presentation is thorough, precise, and compelling, which will effectively engage your audience. 
Managing numerous product assets can be a manual slog, but it doesn't have to be. By attributing the necessary metadata to the added content, the hassle of manual entries is reduced. This streamlined process makes it easy to keep track of all assets and ensures the smooth management of hundreds of product assets together in bulk. 
Utilising Asset Placeholders
If you're ready to begin but lacking media or files, you can simply employ an asset placeholder. This allows you to input essential metadata while content is still in production. Once the content is added, the metadata is automatically applied, allowing for the parallel creation of media and tagging. This streamlined process expedites the creation of rich product content, resulting in faster go-to-market times. 
Optimising the Rich Product Content Process
An agile, rich product content creation process helps the delivery of detailed, consistent, and compelling product information. This can lead to better customer experiences, increased sales, and improved brand reputation. By optimising your product content workflow, you can ensure that your products are presented in the best possible light, which can ultimately lead to business success. 
In conclusion, product content management is a crucial aspect of any business that wants to succeed in today's competitive market. By employing an agile product content workflow, you can centralise, connect, and manage product assets in bulk, ensuring complete, accurate, and compelling product presentation. 
Book a demo with us to get started now to optimise your rich product content process for business success.