Marketing Project Management can be unnerving for everyone involved. In two out of three cases, marketing teams fail to deliver on time. Marketing project managers pass the resulting pressure onto employees, increasing error rates and cultivating unhealthy corporate culture. This blog article addresses the following questions: What are the key responsibilities? How to successfully manage marketing projects? What are the challenges and possible solutions for the efficient execution of marketing projects?
What is marketing project management?
Marketing project management is the process of planning, creating, and completing tasks – from marketing strategies, plans and campaigns to product launches, analytics and competitors analysis. It helps marketing departments to complete work on-time and on-budget, minimizing errors and avoiding risks, as well as boosting productivity. There is a wide range of tools for marketing project management, which are essential for project setup, resource planning and definition of distinct project phases. 
What are the key responsibilities of a marketing project manager?
A project manager is responsible for all four aspects of the marketing project: project scope, resources, timeliness and budgets. 
Project scope:

i

dentifying the scope of a project is the first step in tackling it. The scope of the project includes the desired project goals as well as the size and project management duties needed to execute it. The project manager is in charge of ensuring that the project scope is met. 
Resources: the personnel, equipment, and other objects required to accomplish a project, such as the construction of trade show signage, are referred to as resources. Since resources are an inherent part of every project, the project manager must ensure that they are used both effectively and efficiently. Tasks, for instance, should be assigned so that team members' work does not overlap.
Timeliness: p

roject scheduling is one of the responsibilities of project management. There is a deadline for every project. The project manager's job is to make sure that tasks are completed on schedule and that resources are allocated appropriately.
Budgets: a

s every project has a cost, a budget is usually allocated to it. The project manager is in charge of managing and regulating expenses to guarantee that projects are completed on time and on budget.
How to successfully manage marketing projects?
There is a project life cycle for each and every project. Among other things, the job of a project manager is to steer projects through this life cycle to completion.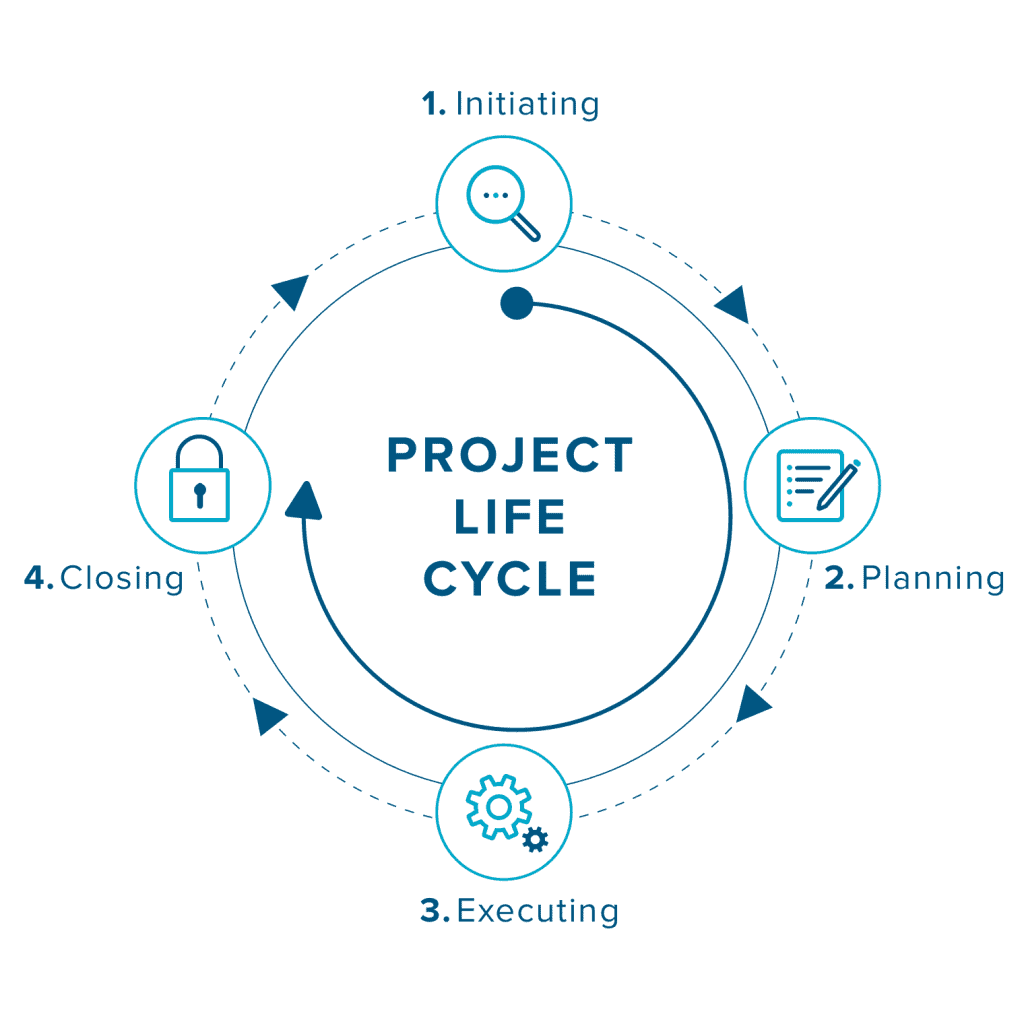 Any project that lacks clearly defined goals and objectives is certain to fail – especially in the fast-paced world of marketing, where initiatives are continuously altering to fit customer preferences and trends. Therefore, the first step to successfully manage marketing projects is to define marketing goals right away. Of course, understanding the goals and identifying tasks to achieve those is an important part of the strategy. This includes establishing tasks, resources, schedules and budgets that contribute to the marketing project completion, but also possible risks and failures.
In order to keep track of the tasks, resources, schedules and budgets, a marketing project plan is required. This can help to track progress, but also inform other people within the organization on the status of the project. Regardless of the industry, it is important to outline the tasks and timeline required to execute on the marketing project.
Now is the time to put the project plan execution into action and monitor project performance. Communication with team members is important throughout all phases of the project, but particularly critical during the execution phase. Team members are the ones executing the task, they should have a better understanding of what they are capable of achieving within a certain timeline. They can assist you in developing realistic timetables and budgets, allowing your marketing projects to run more successfully.
Consider adopting agile project management and break up large projects into smaller chunks. Emails and spreadsheets are also no longer used for collaboration. Marketing project management requires coordination between teams, managers, and stakeholders at all stages of the project. Using emails and spreadsheets makes this nearly impossible.
One thing remains after achieving the project's objectives – to analyze results and summarize key learnings. As a result, you will be able to critically evaluate improvements for the future of the project and plan ahead the next steps.
Today's marketing projects present a wide range of obstacles in terms of planning and tracking. Keeping track of the various initiatives that go live across a variety of channels is difficult enough. Marketing teams are feeling overwhelmed by a lack of transparency over their projects and resources, especially with so many sorts of campaigns to build and run. However, there is a solution to your marketing project management problems. To begin, you must first determine the challenges.
Lack of central platform to manage marketing projects
Many marketers are lacking an organized, central framework while still managing and executing projects. As a result, emails with critical information such as feedbacks and approvals get mixed up. The relevant brand assets are difficult to locate on the server, project briefs and estimates go missing, and marketers waste a lot of time managing the project rather than being creative. All these issues can be solved with a Digital Asset Management solution. If you are new to the topic of Digital Asset Management, we can recommend you to read our Guide on Digital Asset Management: What it is and why you need it.
Use of the wrong tools and inconsistent reviewing processes
Errors will arise if there are no effective reviewing processes or tools in place to handle changes. Information received by email can get lost in an overflowing inbox. Similarly, if you rely on handwritten comments, there's no better way to make improvements more difficult and time-consuming. In the end, ineffective processes and tools result in excessive revision counts and costs. 
Ineffective approval workflows
Numerous marketing projects still lack a specific and customized approval workflow mechanism. One of the most typical problems is that manager assign tasks to the wrong people or at the wrong time. So, while it may appear to be a smart idea to deliver tasks to all stakeholders at the same time, it is actually counter-productive. If marketing needs to examine the content right before it's finished, for example, there's no purpose in providing it to them earlier. One way to work more flexible is an agile teamwork approach, and there are many tools on the market to manage this. We use for example the approval capabilities from CELUM, which are by the way are completely available for free!
Unsuccessful collaboration
To manage both projects and resources, marketing teams continue to rely heavily on spreadsheets. The problem with spreadsheets is that they can't be viewed by other departments if they're saved on the server. When briefing new duties and projects, they have no notion what the marketing team's capacity is. If you are looking for tool, that can help you in managing the creation process, take a look at CELUM. We also included the agile teamwork capabilities in the CELUM Free plan.
From intake to publication, marketing project management entails countless moving pieces. It has the potential to propel a project to success if implemented properly. Easier collaboration, greater coordination and more efficient project delivery are all advantages of marketing project management. Simply said, marketing project management provides team members rules that help them understand what they're meant to do and how they're supposed to do it effectively and efficiently. This will further help you utilize innovations and improve your process for the next big marketing project.