Accelerate content approvals
The team solution for collecting feedback on and approving any content.​
Bring tasks, files and teams together in agile workrooms.
Easily build custom workflows and automate recurring tasks.
Collect feedback, add annotations and approve any file type.
Organize complex   approval tasks
Add workflows and task boards to your complex approvals – reuse what worked and save hours of time every week.
        Visually comment          on any file
Add visual markers on designs or frame by frame on videos and compare changes across versions.
       Sync all the files         you work on
Let your creative team sync all files on any project to their local machines and work like they are used to.
Approve Any File With Visual Markers
No more guesswork. Share precise and actionable feedback and annotate images, videos, audio and docs with markup tools.
With CELUM, our digital architecture has been expanded by an integral building block that has now become indispensable.
Christoph Schroll, HOCHTIEF
Bring tasks, files and content approvals together and never have to switch between different apps.
Knowledge workers spend an average of over a third of their day looking for and consolidating information from the various platforms they use.
Let The Machines Automate Your Processes
CELUM Robots liberate you from boring work and automate recurring steps in your processes.
Essentially, marketing automation can help streamline your marketing efforts and make your department more efficient.
Rebecca Riserbato, HubSpot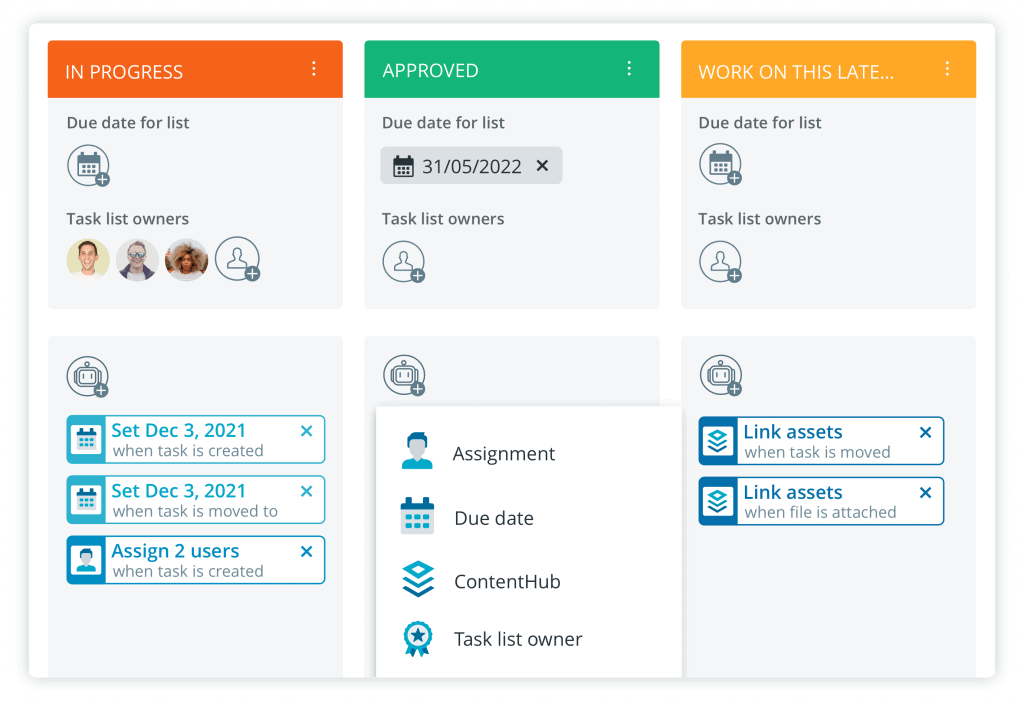 Creative Workflows Re-Invented
Create a consistent proofing workflow and make sure each file goes through the necessary stages and review and approval steps.
The easy, intuitive user interface and the open architecture of CELUM supports the international know-how transfer integral to our corporate network.
Christoph Schroll, HOCHTIEF
Let Everyone See What To Do With Kanban Transparency
Visualize work at various stages of your process and utilize Kanban boards as a powerful foundation for creative collaboration.
Kanban is the lean method to manage and improve work across human systems. This approach aims to manage work by balancing demands with available capacity.
Provide Users With Appropriate Access Rights
Handle user permissions by giving them the suitable role. Modify workflows with a moderator role and provide new or existing users with restricted access to your workroom.
Create, view and edit files, even when you're away from the internet. Make content offline available and sync entire asset collections to your computer.
Guaranteed GDPR-compliant file sharing and central data governance.
Share Content With External Audiences
Share specific files or entire folders with people even outside your organization. Save time by having the chance to download all files in bulk.
Integrate Your Digital Asset Management
Upload approved content immediately to your central content hub or import assets for editing.
Unlock the power of your content today.
Simplify workflows, reduce errors, and spend more time with your team working on the next big thing.