Cliche as it may sound, it's true – Content is the most effective digital marketing strategy today. In fact, 71% of marketers admit that content marketing is even more important to them than last year. 
But effective as content marketing is, it's also enormously challenging to do. Creating even the smallest content asset requires handling at least several moving parts and completing a complicated process. It's no surprise then, that 85% of marketers find themselves under constant pressure to deliver content projects. 
We've created this guide to help you overcome such challenges. 
Below, you'll learn everything about content marketing management. We'll discuss why content projects fail and we'll show you a simple way to eliminate all bottlenecks and publish more content without a hitch. 
So… 
What do we mean by content marketing management?
At the highest level, the term – content marketing management – refers to a process organisations use to oversee their entire content marketing efforts. The process can include anything from content marketing strategy, planning the editorial calendar, creation of different types of content assets (i.e., blog posts, social media posts, case studies, landing pages, etc.) to content distribution, performance analysis, and more. 
In other words, content marketing management is about ensuring that content ideas get realised, and actual content assets go live on time. 
And needless to say, the process is beyond critical to succeeding with content. In fact, as one organisation after another finds over and over again – It's almost impossible to succeed with content without a way to manage the entire process. 
This is another important thing to remember about the content marketing management process, and here's why. 
Why content projects fail without the process
First, let's define failure in the context of content marketing. 
When we talk about failure, we don't necessarily mean that projects never get done. Of course, this sometimes happens too. However, in this case, when we talk about failure we refer to a lack of seamless flow of content production.
In other words, we can define failed content project as those that: 
Get completed past the original deadline.

Often, the deadline gets pushed several times due to delays and bottlenecks. 

Are plagued with errors and mistakes

. A common example of those is having wrong assets used during production

Accrue additional costs.

These often come as a result of having to resolve the aforementioned errors and mistakes, and so on. 
Naturally, this isn't an exhaustive list. But we hope that it gives you a good idea of what constitutes a failed content project. 
Several factors can result in such issues.
Firstly, project setup that does not facilitate a seamless flow of production
Managing content marketing is relatively easy with a small, 1-2 person team. However, beyond that things can get complicated. For one, the project's setup does not allow for seamless collaboration:
Content teams are often dispersed across different time zones making instant communication challenging. 

Similarly, various teams or team members might have disjointed objectives (or even don't know what their objectives are).

Finally, lack of a centralised content hub means that teams waste enormous amounts of time and resources on just locating correct versions of assets. 
Such a setup often results in communication breakdowns and bottlenecks
As a result, teams are unable to unify their ideas due to a lack of communication platform allowing for seamless exchange of ideas. 
Team members might also fail to realise the full extent of their responsibilities, and omit important tasks they should perform. This is particularly evident when a project reaches the approval stage and things grind to a halt because a team member still hasn't submitted their comments. All the while the person doesn't even realise that their feedback is due. 
A typical toolstack teams use to manage content projects often fails to prevent those challenges
For one, teams often use a whole set of tools to manage various aspects of the content production process. In fact, data from Inc. com suggests that, on average, companies use as many as 37 different tools to manage their operations. 
Granted, not all those tools relate to content. Yet, it's safe to assume that an average content team would use several different platforms in their day to day operations. Here are just some for the tools content teams use in their work:
Internal communications tool

Editorial calendar platform

Project management tool and task manager

An SEO platform

Design software

A digital asset management solution

Content management system to publish content to relevant channels

Social media management tool

Traffic and performance analysis tools, and so on.
As you can see, teams can easily use one tool for communication, another platform to manage project status and project's tasks, and yet another to gather all assets in one place. Reviews and approvals are often collected via email, which only means that teams end up with a whole range of disjointed messages that need to be correlated together and so on.
All this means that information about the project resides scattered across different tools, platforms, and data sets. Needless to say, such a setup facilitates chaos rather than flawless and seamless communication and collaboration. 
Finally, there are often many people involved in the process
This means that at any given time, the team has several people working on different aspects of each content asset:
Content marketing manager

– This person's responsibilities include coordinating all aspects of the project and overseeing the production at the highest level. 

Content editors

– People responsible for ensuring that each asset meets the project's criteria and has been created to the highest possible standard (and without any errors.)

SEO strategist

who plans the SEO strategy, evaluates the content's performance, conducts necessary research and revisions, and plans new initiatives. 

Content creators

who write blog posts, email copy, and all additional content necessary to complete each project. 

Creative teams

who compliment the writing team's work with visual assets and complete other creative aspects of the project. 

External vendors

, who can fall in almost any of the categories above, but work as independent contractors and thus, have different set of responsibilities than in-house teams. 
Then, there are subject matter experts whose insights and expertise help the team take the project to a whole new level, and various other stakeholders involved in the review and approvals process. 
All this results in quite a complex web of dependencies in almost every aspect of the project. 
And once again, it's almost impossible to oversee such dependencies without turning to content marketing management.
But one question remains – How to do that? 
The answer lies in unifying all points of friction and structuring the process properly with just one piece of software – Content Supply Chain (CSC) Management software.
How to manage content marketing projects with CSC software
Content Supply Chain Management  is a process of creating and managing content projects as well as distributing digital assets from one, centralised location or a content hub. 
Content Supply Chain systems like CELUM facilitate team collaboration, project management, and streamline review and approvals processes, among others.
Here are just some features that help improve content marketing management.
CELUM' DAM capability offers a single place where you can organise all kinds of digital files – images, videos, documents, drafts, and more. 
It allows you to:
Bring all your organisation's assets into a single location

Organise those files into collections, folders, and use any other taxonomy that works for you 

Define relevant asset types and categorise your content based on a variety of formats and use cases.

Bulk upload files from any connected source with a powerful content ingest service.

Keep track of your content

Define who should be allowed to see and access what.
CELUM's collaboration capability helps you have everyone working together on a project from a single location using the agile methodology. 
By far, this is the best way to eliminate chaos in a project, ensure that no messages get lost across different communication channels, and get projects done faster. 
As a result, everyone involved will not only be on the same page, and able to communicate with each other. They will have full access to all assets and information they require to complete their tasks. 
With CELUM, you can:
Manage each project from a single location

Get everyone on the same page regarding the status of each project

Manage all project files from a single location

Bring all tasks and files together, and more.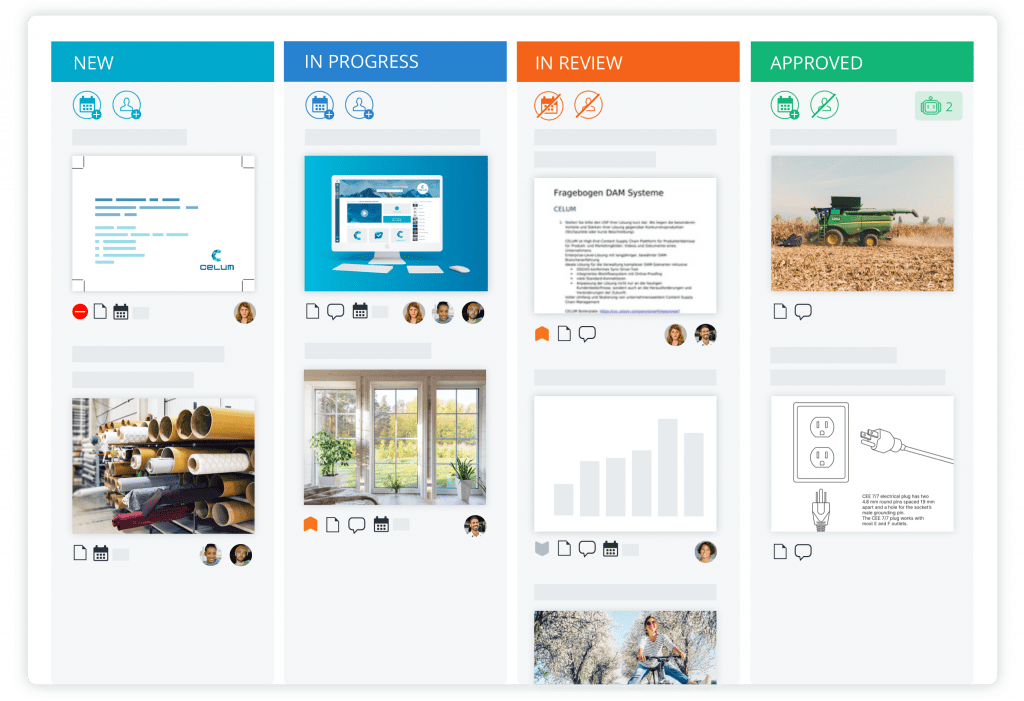 Most content marketing projects follow a similar process. You start with an idea, define a brief, create drafts, revise them, and continue the production until the sign off. 
Workflows in DAM allow you to systematise every aspect of that process, and create a repeatable system that you can use to ensure that projects move forward faster, teams collaborate more efficiently, and they avoid making errors and omissions. 
With workflows, you can: 
Define task transitions and how freely team members can move tasks around. 

Assign clear responsibilities to allow only relevant users to approve & forward tasks in specific stages.

Set up automations to adjust due dates, assign or unassign users, restrict task creation, and so on. 

Create personal templates for a variety of different projects to start the work faster. 
Each project must go through a series of reviews and approvals. Unfortunately, typically, this involves chasing feedback, following up on email chains, and results in delays in production. 
CELUM's online proofing capabilities allow you to manage the entire feedback and review process from a single place, collect comments, process revisions, and get to the sign off much quicker. 
With online proofing features, you can:
Notify relevant shareholders about projects they need to review

Use annotation tools to leave precise and actionable feedback directly on assets

Create consistent proofing workflows to automate the process.
CELUM offers industry-leading integrations that help you safely share files across departments and with third-party vendors. Other integrations will help you route content to relevant channels – social media, your website CMS, etc. – to ensure that it reaches customers fast.